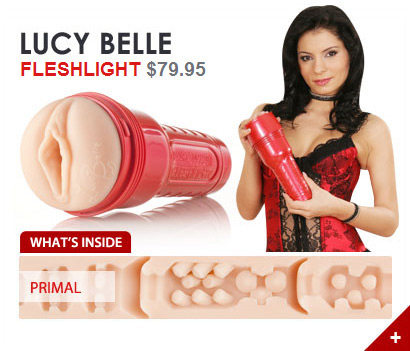 It should come as no surprise that Lucy Belle has joined the line up of pornstars to have their pink bits turned in to a Lucy Belle Fleshlight for the Private Collection. Her natural perky breasts and cute little bubble butt aren't up for grabs here… but you can still have her tight wet slit in your hands within the next few days if you want it!
Buy Lucy Belle Fleshlight NOW!
The Private Collection is all about European pornstars – Lucy Belle is from Hungary – but for some reason that means you don't get to choose which textures and orifices you want. Don't ask me why. So anyway, this one is for true fans of Lucy Belle, those who don't care about choosing other options. Lucy's Belle Fleshlight comes in a red plastic case, with the extremely intense and orgasm inducing Primal Fleshlight texture, and the vaginal orifice modelled on the pornstar herself.