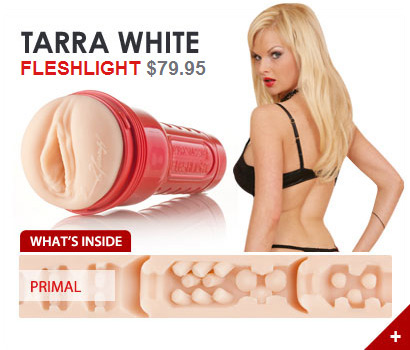 What kind of girl dreams about becoming a pornstar when she grows up? A very dirty girl… and that girl's name is Tarra White. And now, if it has been your dream to spend a night with this busty blonde from the Czech Republic, you can finally make it happen!
Buy Tarra White Fleshlight NOW!
As with many of the other Fleshlights in the Private Collection, Tarra White Fleshlight just comes as she is… with no options to choose different orifices, textures, or cases. But if you're a big fan of this big breasted babe then that shouldn't bother you I guess. So anyway, when you get yourself inside Tarra White's Fleshlight you will be experiencing one of the absolute best Fleshlight textures that are on offer at the moment. It is called Primal Fleshlight, and it combines the most popular and most successful elements from some of the older textures. As you push in Tarra White Fleshlight you'll start at the Swallow texture, followed by a Lotus node, which leads to a bunch of STU bumps, and if you can make it past that you will find another Lotus node and finally some Speed Bumps.