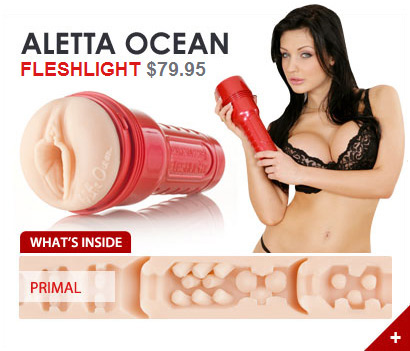 Aletta Ocean hot Hungarian pornstar has now got her very own Fleshlight in the private collection. You won't get to run your hands through her silky black hair, or squeeze her big breasts together, but who needs all of that when you have got her tight pink bits to sink in to at any time of day or night?!?
Aletta Ocean Fleshlight doesn't have a lot of configurations to mess around with before you order it, in fact there are no decisions at all to make… there is only one type of sleeve texture (Primal), one type of orifice, and only one color for the plastic case. So if you're a bit of a control freak, and you want the choice between many different textures, then maybe Aletta Ocean Fleshlight just won't be able to do it for you.
Buy Aletta Ocean Fleshlight NOW!
Otherwise, if you're easy going, and you're a big fan of Aletta Ocean, then you will want to pick Aletta Ocean Primal Fleshlight up. Even if you have no idea who this babe is, you may still want to get her Fleshlight just for the "primal" texture so that you can experience one of the most complex textures in the whole range.