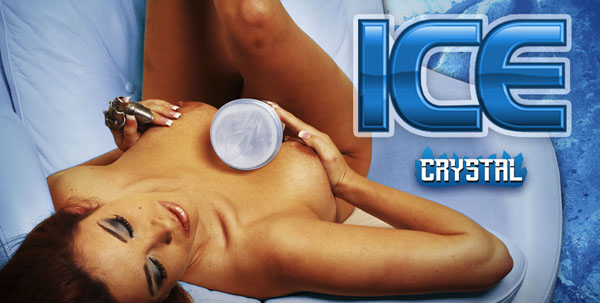 Fleshlight Ice producer has released the new sleeve – Fleshlight Crystal. It is only available with Fleshlight Ice sex toys. It is totally new sleeve that is similar to nothing that was produced so far. The Fleshlight Ice gives all the same sensational experience as the original Fleshlight, but with a transparent sleeve and case for unusual visual stimulation. You can see your own cock penetrating the fleshlight from inside.
Buy From now Fleshlight Ice is sold with the new exclusive Fleshlight Crystal which has been created to maximize a stimulation of your penis with extraordinary sensations all throughout. When you explore the new Fleshlight Ice sleeve you'll start to appreciate the sublime differences each uniquely designed pleasure ice chambers has to offer.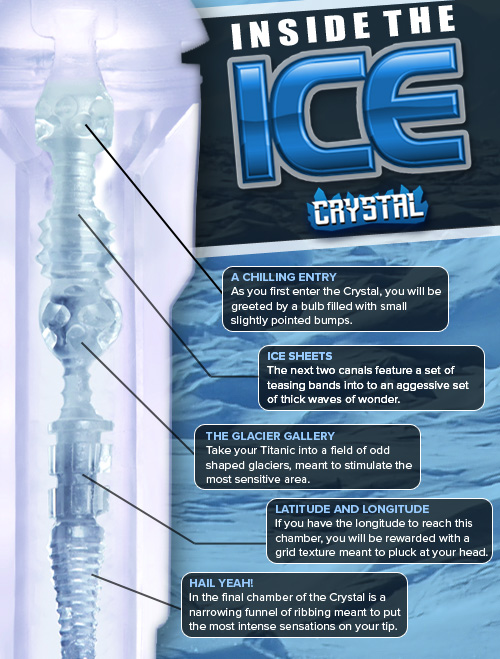 Take a look how new Fleshlight Crystal looks inside. It is the most technologically advanced sleeve ever built. When you goes inside the Crystal sleeve you'll meet the chilling entry and you'll be greeted by a bulb filled with subtle straight bumps. Than you are passing the Ice Sheets – two connected canals with set of teasing bands and aggressive ribs. Than you get into the Glacier Gallery where you can take your Iced Soldier into a field of strange shaped ice crystals, designed to stimulate the best parts. If you soldier is long enough to reach the fourth chamber, will be greeted with grid texture created to stimulate your head. There's also a fifth chamber only for professionals with narrowing diameter made to give the best sensation on your tip. You can choose between four orifices, the Lady, Mouth, or Butt – to have your perfect visual fantasy finished. Your Fleshlight Ice is available with one Fleshlight Ice Sleeve with the exclusive Crystal Texture, Clear Fleshlight transparent outer case.